Thanks to the Triangle Community Foundation for bringing Rob Stuart to town and organizing today's Civic Engagement and Technology Workshop. I really enjoyed seeing a lot of my old NC nonprofit friends as well as making new ones.
As promised, here are the materials I used in my sessions. First, my seven-minute overview of OrangePolitics. Then my network-centric advocacy presentation, which was referred to in our discussion of social networks. And here is a Second Life slide show that I prepared but didn't end up using.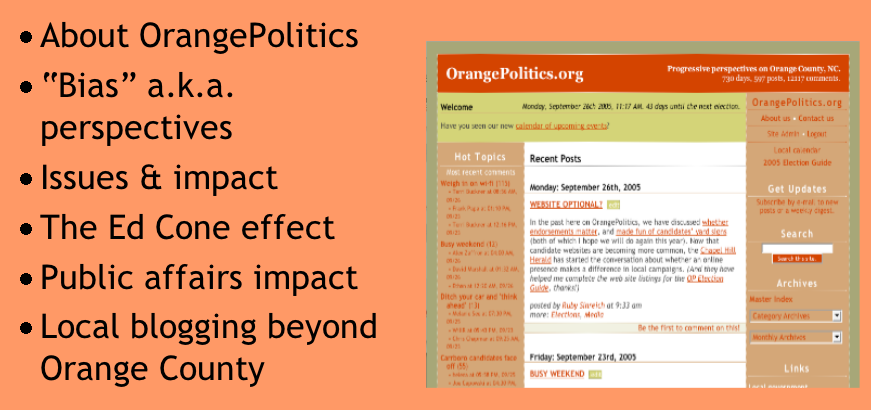 Finally, here are some of the social networking sites that I demonstrated. If you sign up for any of them, please look me up and say hello!
http://Facebook.com
http://MySpace.com
http://SecondLife.com (virtual reality)
http://Flickr.com (photos)
http://Twitter.com (mini-blogs)
http://Last.fm (music)
http://YouTube.com (videos)
http://GoodReads.com (books)
Learn more:
Pushing Power to the Edges
http://en.wikipedia.org/wiki/Social_software
http://en.wikipedia.org/wiki/Social_network
http://www.netcentriccampaigns.org
https://lotusmedia.org/in/nptech/advocacy